Here, we are pleased to tell you that we released the American standard electric vehicle charger this week.
Based on years of experience in the European market. We have developed several series of AC and DC electric vehicle charging stations. Now is the time for us to simulate the American market.
Through our AE-A-M series upgrade, we now recommend our American standard electric vehicle charging station for you.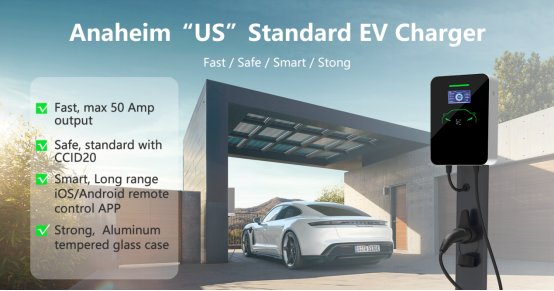 This powerful charger provides a maximum 50A output and is suitable for any brand of electric vehicle with a Type 1 charging port.
You can use our smart APP to easily adjust the output current according to the maximum charging speed of your vehicle.
In addition to output adjustment, you can also share the charger with APP, share the charger with your family, set the charging time and check the charging history.
In addition to intelligent functions, we are also committed to security. It is the standard configuration of CCID20 leakage protection device, and the shell is made of aluminum and tempered glass. We hope to bring you the safest charging experience every day.
If you plan to launch the electric vehicle charging business in the United States, please call us for more information. We are happy to support you.