The Geely Galaxy official announced that the Galaxy L7 will be officially launched on May 31. According to dealers, the price range of the new car is between 140,000 yuan and 170,000 yuan. The new car is equipped with a four-screen linkage consisting of a 10.25-inch full LCD instrument, a 13.2-inch vertical central control screen, a 16.2-inch co-pilot screen and a 25.6-inch AR-HUD head-up display; L2+ level intelligent driving assistance.
Galaxy L7's blackened chrome-plated front strip connects two long and narrow light strips. The lower part of the light strip adopts a split design. spoiler.
The interior of the Galaxy L7 is available in three colors: jade black, light brown, and sky white. The Galaxy N OS system supports functions such as partitioned voice control and continuous recognition, and is equipped with safety features such as 360° panoramic images and front and rear parking sensors. In addition, the new car also provides comfortable configurations such as 10-way electric adjustment for the main driver, 8-way electric adjustment for the co-pilot, 50W mobile phone wireless charging, and Yanfei Lishi audio.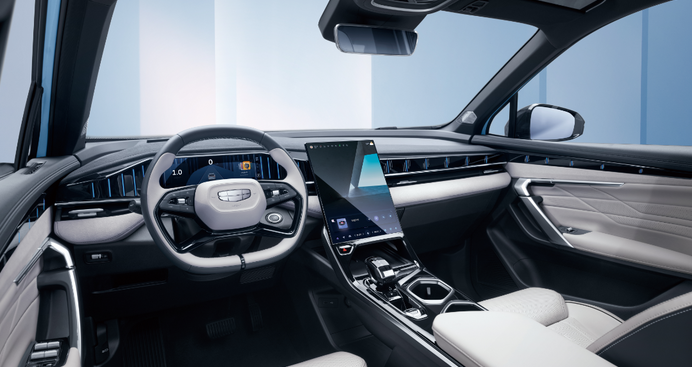 Based on the e-CMA architecture, it is equipped with a hybrid system composed of 1.5T four-cylinder engine + battery pack + 3-speed variable frequency electric drive DHT Pro variable frequency electric drive. Galaxy L7 supports electric hybrid, extended range, and pure electric driving modes, with a maximum speed of 200km/h /h, equipped with a battery pack with an energy density of 18.7kWh, the CLTC pure electric battery life is 115km, and the acceleration from zero to zero is only 6.9s.